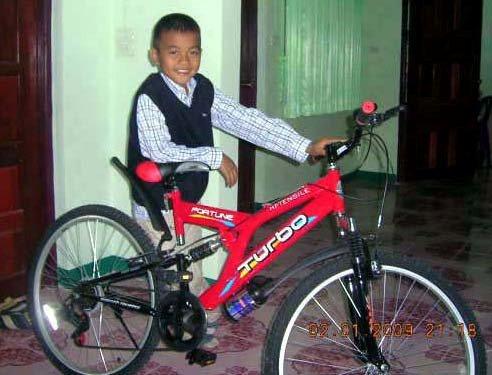 You can rent our bicycles free of charge for small trips around the homestay. Take a small motorbike (100cc /125cc Honda) if you would like to explore surrounding villages and nature spots
.
For longer distances, a vehicle with driver can take you to destinations of your choice. Our prices are very competitive and having a local driver will give you more time to enjoy the trip and the view. The trip can be planned according to your needs and our local associates will be happy to provide you some insights into their world.
Car rentals are offered by international agencies (e.g. BUDGET, AVIS or HERTZ) at Kohn Kaen or Udon Thani airports. We are happy to assist you with the bookings and reservations. A valid international driving licences is obligatory.
Traffic in Thailand follows left-hand driving and motor-cyclists have to wear a helmet. Beyond the main roads, traffic signs often happen to be in Thai script only, which can pose a challenge to your navigation and orientation. You therefore may wish to secure a GPS device.
Here are a few important traffic customs you ought to know if you plan to drive by yourself. During the day, driving before 10 a.m. and after 4 p.m. is more dangerous due to rush hours. If livestock such as cattle for example crosses the road unexpectedly, you may run the risk of collisions in which case you would not only be responsible for any damage made to the car, but also damage caused to the cattle.
You also ought to know that in the case of accidents, initially, the most powerful vehicle is assumed to be culprit. If for example, a mini-van collides with a drunken motor-cyclist who infringed on the van's priority, the responsibility for the accident will nonetheless be attributed to the mini-van. For a tourist, such a situation is a difficult handle.